TAGLINE DRAFTING COMPETION FOR THE CENTENARY CELEBRATION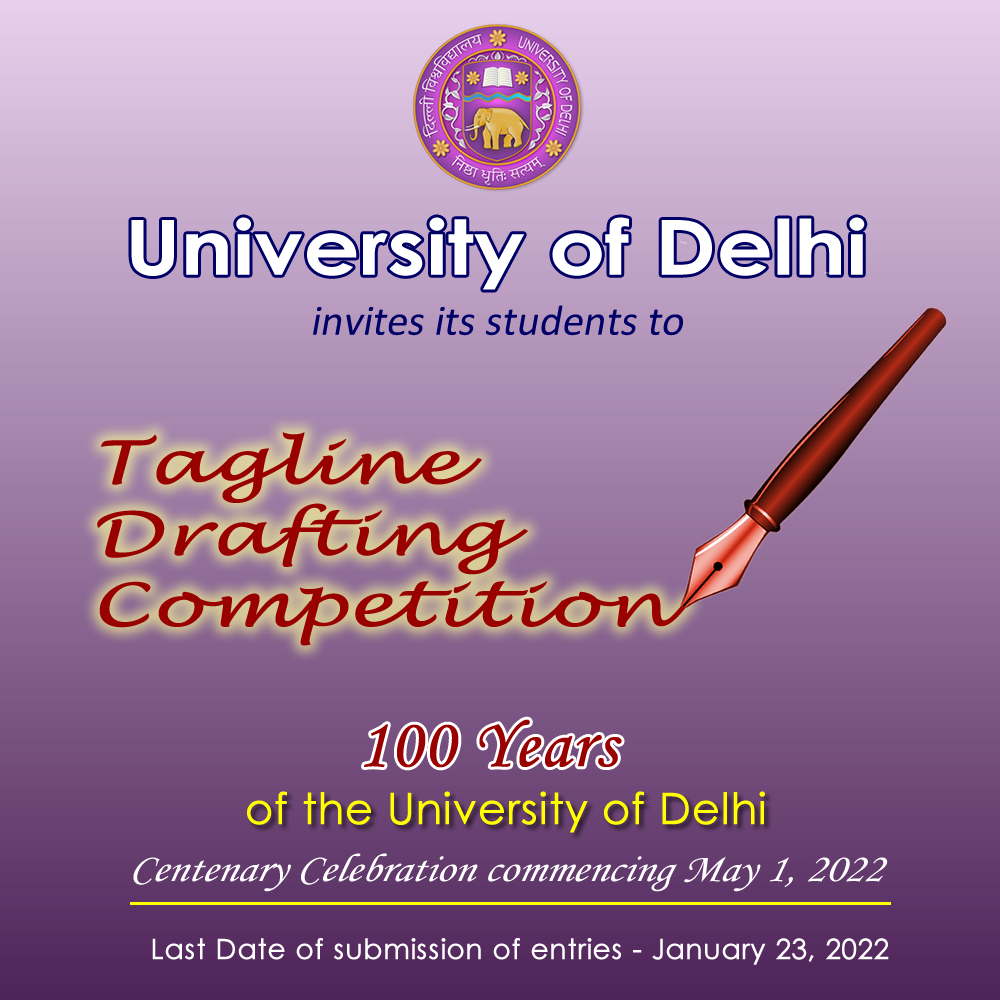 To mark the commemorative event of the Centenary Celebration, the University decided to encourage all the interested existing students on the rolls of the University and its colleges including Non Collegiate Women's Education Board (NCWEB) and School of Open Learning (SOL) to participate in a competition for conceptualization and creation of a "Centenary Tagline", which was expected to be an original creation of artistic endeavour of the students befitting to the dignity of this historic occasion.
All the eligible students of the University and its colleges were encouraged to participate in this one of a kind "Centenary Tagline" drafting competition and conceptualize a tagline which is being used for all purposes and occasions in course of the centenary celebration. The University solicited maximum participation from the existing students for this open competition to showcase their creative best for this event.
A total of 315 entries were received through this competition. After establishing the bonafide status of the students, alongwith plagiarism check of the entries received, and multiple rounds of shortlisting, a total of 8 entries were shortlisted, but with various reservations and comments of the jury. The competent authority then decided that none of the shortlisted entries befitted this historic occasion. Hence, as per the guidelines already published, a team of the Centenary Celebration Committee members drafted a few taglines, one among which was chosen by the competent authority, that adorns the Centenary Logo.
This is the story behind the chosen Centenary Logo and its associated Tagline finalisation process.  
Shortlisted Entries for the Centenary Tagline
Sl. No.

Tagline, as originally submitted by the student

 

Student Details

1

वतन के हौसलों की उड़ान, सौ साल का सम्मान.

Akshay Kumar
UG Student
School of Open Learning

2

Celebrating a centenary of imparting excellence through education

Prabhat Dixit
PG Student
Department of Germanic & Romance Studies

3

सौ साल बेमिसाल

Ankush Tripathi
UG Student
P.G.D.A.V. College (Evening) 

4

"DU ~ AN INSTITUTION OF EMINENCE, EQUALITY, AND DIVERSITY."

Raj Kumar
UG Student
Kirori Mal College

5

100 years of nurturing universe of knowledge

Vikash Kumar
UG Student
P.G.D.A.V. College 

6

सपनों की मशाल के १०० साल ।।

Sai Raunaq Gosain
UG Student
Shaheed Sukhdev College of Business Studies 

7

शतकीय द्वार सफर शानदार

Asif Ali
Ph.D. Student
Department of Education

8

प्राचीन से नवीन  100 वर्ष शिक्षा कि मुहिम ।

Sachin
UG Student
Kirori Mal College